Troy's Leading Source for Dental Implants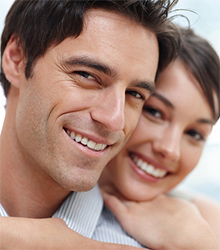 Dr. Mitchell Milan is a cosmetic dentist practicing in the Troy area, specializing in traditional dental implants and mini implants. Missing or severely damaged teeth are as much an emotional problem as a physical one. Patients often fear that a permanent part of their mouths has disappeared, and can only be replaced with temporary additions. With dental implants from the Birmingham Center for Cosmetic Dentistry, you can restore enduring strength and function to your mouth.
At Birmingham Center for Cosmetic Dentistry, we pride ourselves in our state-of-the-art office, geared solely for the comfort and well-being of our patients. Dr. Milan's amazing smiles have been featured on magazine covers, television and can be seen on everyday people all over the world. Dr. Milan takes his time and thoroughly analyzes his patients' overall dental health and function. He prides himself in offering practical, highly esthetic solutions to challenging issues patients may be having with their smiles.
Insurance and Payment Options
We accept most insurance plans. We also accept payment from most PPO and indemnity plans. Please call our office to make an appointment and we will answer any questions you may have. We accept all major credit cards, ATM cards, cash, and personal checks. For our patients' convenience we have arranged a payment plan through a third party, CareCredit, which helps our patients receive their treatment in a timely manner.
Traditional Dental Implants in Troy, MI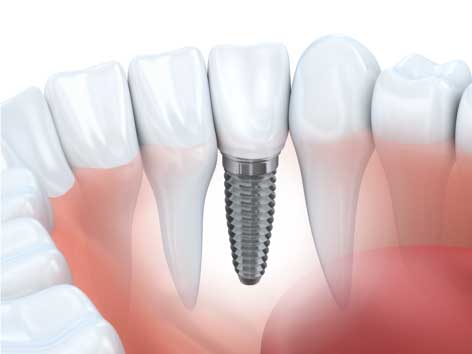 Traditional implants provide a solid, permanent replacement for broken, decayed, or missing teeth. They involve replacing the root of your tooth with a titanium base, which can then support prosthetic teeth. Unlike most dentures or bridges, implants are rooted into your mouth, and thus provide a lasting solution to tooth damage. For this reason, we recommend implants for the vast majority of our patients who have serious dental damage.
Installing dental implants involves the following three stages, each requiring a separate dentist visit:
1. Initial Inspection. The first step is to meet with Dr. Milan, who will examine the damaged tooth or teeth and determine whether an implant can solve the problem. He will also inform you of other treatment options. If an implant will work and it is what you want, you move on to:
2. Planting The Post. At this stage, we remove any remains of the initial tooth and insert the titanium base into the jawbone. Through a process called Osseo integration, it will fuse with the bone and become a permanent part of your jaw. This will provide a solid base for:
3. Placing The Prosthesis. During the third visit, we will place a prosthetic tooth over the implant. Our prostheses are designed to mimic the color of your teeth, as well as to provide a similar level of hardness and functionality. We can thus integrate them seamlessly into your mouth, making them indistinguishable from other teeth.
Dental implants are a versatile solution, allowing you to replace individual teeth or whole sections of your jaw. They can also be integrated with other prostheses, notably through implant-supported dentures. Thus no matter the cause or extent of the damage to your teeth, dental implants will be able to fix it.
Mini Implants
In addition to traditional dental implants, Dr. Milan also installs mini implants in certain situations. These devices are narrower than traditional implants but otherwise function similarly. This makes them ideal if you lost teeth in areas of your mouth with a narrow dental arch, where there is relatively little bone in which to install a full titanium post.
Mini implant installation is less invasive than its traditional equivalent and thus leads to less pain and fewer potential complications. It is also less expensive. As with traditional implants, mini implants can hold implant-supported dentures or mount replacement teeth permanently in your mouth. Dr. Milan will determine if you are a candidate for mini implants during the initial inspection, and will be happy to install them if so.
Hear directly from our happy patients!
"I just wanted to thank you again for the wonderful work you did on my teeth. You are simply an expert at this! I will continue to recommend you to anyone who may need your services, I always do. Thank you again for my smile!" Tracey F., Executive Administrator
"Dr. Milan's office is very unique in their teamwork approach, professional expertise, and the TLC they deliver to their patients. Our family is only one of many this team of experts serves, led by Dr. Milan. It would behoove other dentists to use this dentist as a role model." Jackie H., R.N.
---
Our minimally invasive dental implants are a great solution for permanently replacing your missing teeth. Call us to schedule an appointment or fill out our online form to learn more about how Dr. Milan can restore your smile!